Eureka Personal Injury Lawyer
Request Free Consultation
Any unexpected injury is sudden, shocking, and traumatic when it occurs, but the lasting repercussions of an injury may be even worse. Injuries are painful and require medical procedures, treatments, and sometimes physical or occupational therapy. These treatments quickly become expensive, with today's astounding medical costs. Bills pile up at the same time you're unable to return to work due to your injury and lengthy recovery time.
If you've been hurt due to someone else's negligence, recklessness, or wrongdoing, the at-fault party owes you compensation for damages. This is typically paid through the appropriate liability insurance depending on how the injury occurred.
Making a personal injury claim in Eureka is a complex process and insurance companies are not often in a hurry to pay out on large claim amounts. You need a Eureka personal injury attorney from Miller & Hine to represent your rights and seek the best possible outcome for your case.
What Compensation Can I Get from a Eureka Personal Injury Claim?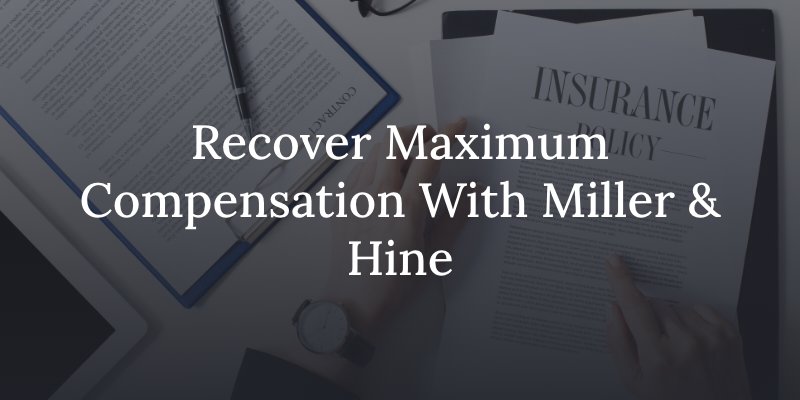 Serious injuries require costly treatments and can also have long-term effects on your ability to make a living. A successful claim for compensation after a personal injury can recover compensation for your damages including the following:
Medical costs and future medical costs
Lost wages and future lost wages
Diminished earning capacity if your injury caused a disability
Pain and suffering
Any additional non-economic damages that apply in your case, like disfigurement compensation, loss of limb, loss of pleasure in life, PTSD, or emotional trauma
Your Eureka personal injury attorney will carefully calculate your damages to maximize your compensation. At Miller & Hine, we only take our fee if we secure your compensation so you need never pay upfront.
Proving Liability in Personal Injury Claims
According to Missouri's comparative negligence insurance laws, the injury victim (plaintiff) must prove liability on the part of the individual or business entity at fault for their injury (defendant). Proving liability in personal injury claims requires using evidence to demonstrate the following:
That the at-fault party owed a duty of reasonable care to prevent injury, such as a driver's duty to obey traffic laws, or a duty of special care such as a doctor's duty to treat patients to the industry-accepted standard of care
That the party at fault breached this duty through an act of negligence, recklessness, or wrongdoing
That the breach of duty directly caused your injury
That you've suffered significant economic and non-economic damages from the injury
Once your Eureka personal injury attorney from Miller & Hine thoroughly investigates your case to determine the liable party they'll gather evidence to prove liability and work toward securing an ample settlement for your damages. If the insurance company practices bad faith tactics to deny or undervalue your valid claim, your court-experienced attorney from Miller & Hine is more than ready to litigate the matter through a lawsuit in court.
Filing a Personal Injury Lawsuit in Missouri Within the State's Statute of Limitations
While the majority of personal injury claims settle out of court through negotiations between an attorney and the insurance company, if the insurance company wrongfully denies or lowballs your claim, you and your attorney can choose to file a lawsuit within the state's 5-year statute of limitations for personal injury claims.
If an injury occurs to a minor, they have until five years after their 18th birthday in which to file a lawsuit in court.
Common Causes of Personal Injury Claims in Missouri
There are many ways that injuries occur, but when the injury was preventable if only someone else had taken reasonable care it qualifies for a Eureka personal injury claim. Some common causes of personal injuries include:
Car, truck, and motorcycle accidents
Bicycle and pedestrian accidents
Workplace injuries
Slip-and-fall accidents
Medical malpractice
Defective products
Dog bites
Wrongful death
When someone didn't take the proper care and the result was a serious injury, the Missouri civil court allows the injured victim to seek compensation for damages associated with the injury. A personal injury attorney in Eureka can help streamline the process, investigate the circumstances of the accident to prove liability, and calculate the damages to maximize your recovery.
What to Do After You've Suffered an Injury Caused by Someone Else's Negligence
No matter how your injury occurred, taking certain steps to protect yourself and your future can help to streamline your claim later. If you have a phone with you and can move safely, use your phone—or hand it to an uninjured person to use for you—and do the following:
Call 911 to ask for emergency services and report the accident if it's a traffic accident or your injuries are from a criminal action against you
Take photos of any visible injuries
Add the contact information of anyone else involved in the injury and of eyewitnesses
At the hospital, have a complete medical evaluation and ask the doctor for a detailed report with their recommendations for your treatment
Save your medical bills and any other documentation and then call the personal injury attorneys at Miller & Hine
In some injury cases, there could also be criminal charges against the person at fault; for example, after a drunk driving accident. A civil case for compensation proceeds separately from a criminal arrest and doesn't depend on a guilty verdict. Our Eureka car accident lawyer is prepared to handle these types of situations.
What Your Eureka Personal Injury Attorney Will Do For You
Call our Eureka law office today and set up a free consultation. We will discuss the details of your accident and begin working on a strategy for your claim. Then, your injury attorney will do the following:
Make an assessment of your case
Ask you to sign paperwork to retain an attorney from our firm
Investigate your injury to determine liability
Notify the appropriate insurance company that you're representing our firm so they can direct all communications through your lawyer
Gather evidence to prove that the liable party's negligence caused your injury
Send a compelling demand letter to the insurance company
Negotiate a settlement
Litigate your case in court in the event we can't achieve an acceptable settlement
Contact our law office in Eureka today so we can put our combined 5 decades of experience in navigating personal injury claims behind resolving your claim with the best possible outcome.