Arnold Personal Injury Lawyer
Request Free Consultation
A sudden injury is painful and distressing. It's even more traumatic if the injury was caused by someone else's carelessness, reckless behavior, or intentional wrongdoing. Serious injuries can cause financial upheaval as well as pain and suffering. Even minor injuries can cause missed work days as well as medical expenses. A successful personal injury claim in Arnold can help Missouri residents gain compensation for their damages. In a personal injury case, "damages" are the consequences of the injury to the victim.
If you've been injured in Arnold, and the injury wouldn't have occurred if someone else had only taken reasonable care to prevent it, you shouldn't be left with the undue burden of expenses. Call the Arnold personal injury attorneys at Miller & Hine today for a free case consultation so we can begin a strong legal strategy for your compensation.
Why Choose Miller & Hine for Your Injury Attorneys in Arnold?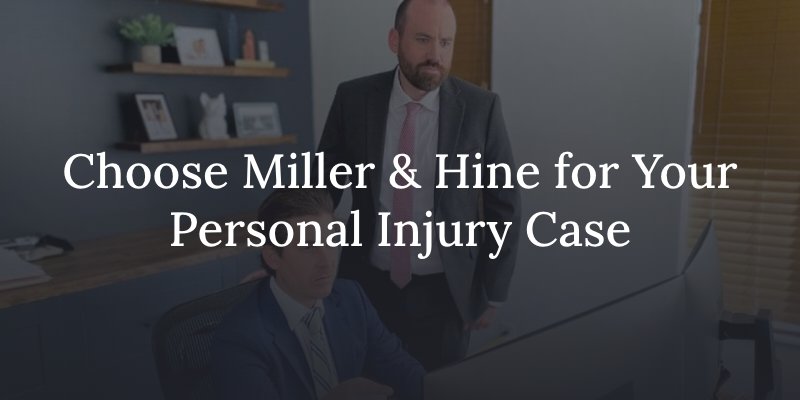 Even in clear cases of negligence, a personal injury case can be challenging when the at-fault party's insurance company uses common tactics to lowball a settlement amount or deny a valid claim. At Miller & Hine, we believe every injury victim deserves to be treated with dignity, respect, and compassion. We're ready to fight for your full compensation while you focus on your recovery. At Miller & Hine, we provide the following advantages to our injury victims in Arnold:
Over five decades of combined legal experience in Missouri
Free case consultations and contingency payment method so we only take a fee after we secure your compensation
Skilled injury investigators to craft the most compelling, evidence-backed case for your damages
A collaborative approach to each case for the best possible outcome
Open and honest communication throughout the process
An attorney from a team of Arnold personal injury lawyers with a strong track record of success in Missouri personal injury claims
The attorneys at Miller & Hine approach every client's unique injury case the way we would for a member of our own family.
Common Personal Injury Claims in Arnold
Injuries happen every day, but they're especially distressing when they're caused by someone else's actions or negligent inaction. Even mild injuries are disruptive and expensive to treat. Serious injuries can be catastrophic and life-altering, leaving families facing financial hardship. Common personal injury claims in Arnold include those from the following:
Car accidents
Commercial truck accidents
Pedestrian accidents
Motorcycle accidents
Bicycle accidents
Workplace injuries
Defective product injuries
Slip-and-fall accidents
Dog bites
Medical malpractice
Wrongful death
When an individual or business does not take reasonable care, and the result is direct harm to someone else, the civil courts in Arnold hold the negligent party responsible for damages. Compensation for damages in personal injury claims typically comes through a claim against the appropriate insurance policy of the at-fault party. For example, auto insurance personal injury protection (PIP) in a car accident claim, or premises liability insurance in a slip-and-fall case. Our Arnold car accident lawyers have the experience to take on difficult cases.
The attorneys at Miller & Hine have strong investigative skills and experience determining the negligent party and making a compelling case for their liability. We help our injured clients maximize their chances of recovering the largest available amount of compensation for their damages. Most cases are resolved through a direct settlement from an insurance company, but we're more than ready to file a lawsuit if the insurance company fails to offer an ample settlement.
What Kind of Injuries Are Worth a Personal Injury Claim in Missouri?
Any injury can cause significant financial losses if it requires medical treatment and missed work days. Some injuries are serious enough to become life-altering, hindering a victim's ability to work and manage their daily routine. In either case, a successful personal injury claim in Arnold can bring significant financial relief so the victim can turn their full focus on physical recovery. Common injuries in Missouri personal injury cases include the following:
Back and neck injuries
Broken bones
Traumatic head injuries (TBI)
Spinal cord injuries
Internal organ injuries
Sprains, strains, and other soft tissue damage
Burns
Vision or hearing loss
If you have questions about a particular injury and someone else's negligence or recklessness caused the injury, reach out to our Arnold personal injury attorneys at Miller & Hine in Arnold for a free case consultation.
Liability in Arnold Personal Injury Cases
In Missouri personal injury claims, the burden of proving liability on the part of the negligent party rests with the injury victim. It often requires a thorough investigation to document evidence of clear liability. The evidence must show the following:
The at-fault party owed a duty of reasonable care to prevent injury to others, such as a driver's duty to follow traffic laws or a store owner's duty to ensure their premises are free of safety hazards
The party at fault breached their duty of care through negligence, reckless behavior, or wrongdoing
The breach of duty directly caused the injury to the victim
The injury victim suffered significant damages from the injury
The court categorizes damages in personal injury cases into two types: economic and non-economic damages. While economic damages are tangible and easier to calculate, non-economic damages like pain and suffering are often the most devastating to our clients in Missouri personal injury cases.
What Compensation is Available in Personal Injury Cases in Arnold?
The individual amount of the compensation in your case depends on the nature and severity of the injury, but if it was a preventable injury caused by negligence on the part of another person or business entity, you or your injured family member can recover damages including any of the following:
Past and future medical expenses related to the injury
Lost income and any future income loss for further treatment or recovery time
Diminished earning capacity if the injury caused temporary or permanent disability
Pain and suffering
Loss of enjoyment of life and/or loss of consortium (a full relationship with a loved one) for catastrophic injuries
If the injury occurred to a loved one who died as a result, the case becomes a wrongful death claim. The Arnold injury attorneys at Miller & Hine can help close family members seek wrongful death benefits.
Contact The Attorneys at Miller & Hine for Your Arnold Injury Claim Today
When an injury sends your life spinning in an unanticipated direction, the consequences can disrupt your daily routine or have long-lasting implications, including on your ability to earn a living. Reach out to the personal injury attorneys in Arnold who understand how important compensation can be to minimize the damages of a distressing or devastating injury. The legal team at Miller & Hine is ready to help our injured clients in Arnold and the surrounding area. Contact us to get started.