St. Louis Truck Accident Lawyer
Request Free Consultation
When a moving vehicle collides with another moving vehicle or a stationary object, the occupant of the vehicle suddenly goes from traveling at a significant rate of speed to a complete stop, in a matter of seconds. When this happens, their body can be slammed into objects inside the vehicle or thrown from the vehicle where it is slammed into objects outside the vehicle.
In addition, the occupant's brain may be slammed against the inside walls of their skull and they may suffer serious damage as a result. It is, therefore, no wonder that a collision with a big rig or large commercial truck can result in serious injuries to all parties involved.
If you or someone you care about was injured in an 18-wheeler accident in Missouri, contact a St. Louis truck accident lawyer with Miller & Hine at (314) 413-2053 to arrange a free case evaluation. You may be entitled to significant compensation.
What Kind of Damages Are Available in a St. Louis Truck Accident Claim?
An accident with a large, unwieldy truck can cause severe injuries, including permanent disability or death. Even less severe injuries can quickly become expensive, with medical bills piling up at the same time that an accident victim is unable to return to work. When this is the case, a successful personal injury claim can relieve financial burdens so you can focus on your recovery. Damages available in truck accident claims often include:
Medical expenses

Future medical expenses for further accident-related care

Lost income

Future lost income

Lower capacity for earning due to disability from the accident

Pain and suffering

Other applicable non-economic damages like disfigurement, loss of limb, or PTSD
Any accident is distressing, but when you've been injured in a preventable accident that occurred because of someone else's negligence, it's especially traumatic. A successful personal injury claim brings not only compensation for your losses but also a sense of justice and closure.
Common Truck Accident Injuries
Broken bones
Cuts and lacerations
Nerve damage
Organ damage
Internal bleeding
Amputations
In addition to being physically and emotionally devastating, truck accident injuries are also very serious to treat, which means accident victims are often left with severe financial problems as well. The most serious truck accident injuries require both immediate and ongoing medical treatment. Some injuries can require months or even years for crash victims to recover, while others can result in crash victims having lifelong disabilities or chronic health problems.
Because of the severity of the injuries sustained in truck accidents, it is important that truck accident victims hire an experienced accident lawyer who can investigate the cause of the accident, and understand the various parties who may be held liable.
The injuries and financial losses suffered by truck accident victims are often catastrophic. So, it is only fair that if you were injured in a truck accident by no fault of your own, that the at-fault party compensate you for your losses.
Common Causes of Truck Accidents in St. Louis
Truck accidents, like other motor vehicle accidents, can be caused by a variety of different circumstances, such as:
Distracted driving
Speeding
Reckless driving
Driver Fatigue
Bad weather
Bad road conditions
Driving under the influence of drugs and alcohol
Poor vehicle maintenance
Poor cargo loading
The most common of the causes of truck accidents is driver fatigue.
Truck drivers working nearly around the clock and falling asleep behind the wheel of a truck has become an all too common occurrence. This scenario can indicate negligence on behalf of both the truck driver and the trucking company.
Truck drivers have a responsibility to pull off the road when they are fatigued, for their own safety and the safety of others. When drivers fail to act responsibly, it often results in catastrophic accidents that cause serious injuries and even death to pedestrians and other motorists on our highways and city streets.
Moreover, the trucking company has a responsibility to make sure its drivers are not driving while fatigued. An experienced St. Louis truck accident lawyer will get the necessary opinions from trucking accident reconstructionists, industry experts, and law enforcement personnel to help you prove your case to the jury, and get you compensated for the injuries that you sustained as a result of a truck driver or trucking company's negligence.
Truck Accident Statistics in Missouri
Missouri is a thriving mecca for the trucking industry, generating over $5 billion dollars in gross state product and $2.6 billion in income. While we rely heavily on the products and services delivered by large commercial trucks when these large, heavy vehicles congest the Missouri roadways devastating accidents often result. Missouri truck accident statistics show the full picture:
There were 192 fatalities in truck accidents in Missouri during 2022 

2,756 injuries from trucking accidents occurred in Missouri in 2022

Tractor-trailer trucks were responsible for the greatest number of injuries and fatalities while single-unit, 4-axle trucks caused the second-highest number of accidents with injuries and fatalities

The timeframe with the highest truck accident numbers in Missouri is between 3:00 and 4:00 PM, yet the greatest number of fatalities from truck accidents occur between 8:00 and 9:00 AM

St. Louis County had the highest total number of truck accidents in Missouri in 2022 with 2,462 crashes and 8 fatalities while Texas County had the lowest number with 55 accidents, 3 injuries, and no fatalities
Commercial trucks are a necessary part of goods and services in Missouri, but when negligence on the part of a truck driver, trucking company, or truck manufacturer results in serious injuries, they must be held accountable for the damages.
The Differences Between Car and Truck Accident Claims
The Federal Motor Carrier Safety Administration (FMCSA) notes that around 510,000 police-reported crashes involve large trucks each year. These claims most often involve physical injuries and, because of the many state and federal regulations governing the trucking industry, always require the legal expertise and experience of a qualified personal injury lawyer.
Unlike passenger vehicles, trucks, 18-wheelers, tractor-trailers, and semi-trucks can weigh more than 1,000 pounds and can be over 70 feet long, making a tremendous difference in size and weight compared to the average passenger vehicle.
When a tractor-trailer or large commercial truck is involved in a collision, physical injuries are more likely. In addition, the injuries tend to be more numerous because collisions involving trucks more often lead to multi-car pile ups on roadways and highways.
Truck accidents are also much more likely than car accidents to cause deaths and catastrophic injuries. Because of the amount of damage a truck can cause, truck accident victims are more likely to be killed at the scene or left with brain damage, paralysis, or amputations.
Who Can Be Held Liable For Your St. Louis, Missouri Truck Accident?
When it comes to who is liable for your truck accident, the truck driver is the easy answer. But, a truck accident case can involve a variety of defendants other than the driver, including but not limited to:
The Trucking Company – Did the trucking company hire a competent driver? Did they give the driver an unreasonable workload or schedule?
The Truck Manufacturer – Did the truck have faulty brakes or defective lights?
Construction Contractors – If you were in a construction zone, were there adequate signs and warnings in place to guide you as you drive?
Another Motorist – Did the truck cause another driver to lose control? And was that the driver that hit you?
It can be difficult to figure out exactly who is at fault for your truck accident and injuries. As such, getting an experienced truck accident lawyer involved is important.
With multiple defendants, negotiating a settlement in a truck accident case can be extremely complex. Often, the same law firm will represent the driver and the trucking company.
In addition, there may be other defendants involved who are represented by their own attorneys. You, therefore, need an attorney who can make sure that each defendant is held fully accountable for their percentage of fault.
What if I am Also at Fault for The Truck Accident?
In this situation, all of the defendants will try to blame you and say that you are the only one at fault. Nevertheless, under Missouri law, a jury will evaluate your percentage of fault, and you may still be able to recover some compensation even if you were partly to blame.
That means you need a lawyer who can argue to limit the percentage of fault allocated to you and maximize the percentage allocated to the other parties involved. The skilled St. Louis truck accident attorneys at Miller & Hine always argue aggressively on behalf of our clients, and can ensure that you recover all of the compensation to which you are entitled.
How to Prove Negligence for a St. Louis Truck Accident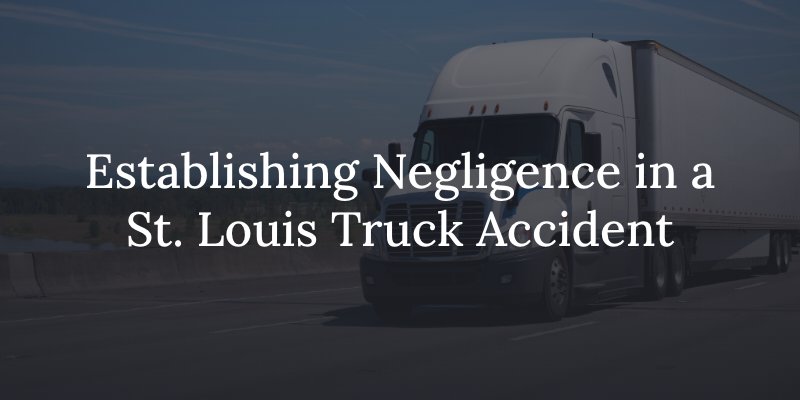 When a party causes an accident by not acting in the way a reasonable person would have to prevent injury in the same circumstance, they are negligent. Acting negligently and causing an injury leaves the negligent party liable for damages. Proving negligence and liability in a truck accident requires using evidence to demonstrate the following:
That the party at fault had a duty of care to take reasonable measures to prevent injury, such as a truck driver's duty to follow traffic laws and avoid distraction and a truck parts manufacturer's duty to produce safe, reliable equipment
That the at-fault party breached this reasonable duty of care through negligence
That the negligent breach of duty directly caused your injury
That you've suffered significant damages due to the injury
Once a claim demonstrates the above legal points showing negligence and liability, your St. Louis truck accident attorney will draft a demand letter to the appropriate insurance company and seek an ample settlement through compelling evidence and a calculated list of your damages.
Why You Need a Truck Accident Lawyer in Missouri to Counteract Common Insurance Company Tactics
No insurance company representative happily writes out large checks to truck accident victims, and trucking companies typically have powerful insurance companies with profits as their priority. Insurance adjusters often find ways to undervalue claims or deny them completely, including the following common tactics:
Calling very soon after the accident with a lowball settlement offer before you know the true extent of their damages and demanding a signed release from further claims in exchange for the settlement
Recording phone conversations and then using your casual remarks against you
Obtaining medical authorization to review injury records and then combing through the medical history to look for pre-existing conditions to cite as the cause of your symptoms
Consulting with their own medical experts to claim that your doctor's recommended treatment isn't necessary
Searching your social media posts for "evidence" that you aren't as injured as you suggest
Most of the common tactics insurance companies use to deny truck accident claims are legal but often unfair to victims. It's best to hire an accident attorney soon after an accident and direct all communications with the insurance company to your lawyer.
Will I Have to Go to Court for My Truck Accident Claim in St. Louis?
Over 95% of accident claims settle out of court through negotiations with an insurance provider, especially when a skilled attorney presents strong evidence of liability against the party at fault for the accident. Most clients never have to see a courtroom for a successful outcome on their claim. In the event that the insurance company resists an acceptable payout on your claim, your St. Louis truck accident lawyer is more than willing to represent you in a lawsuit against the defendant in court.
How Long Do I Have to File a Truck Accident Claim in Missouri?
Every state places a time limit on how long after an accident an injury victim can file a lawsuit. Missouri's statute of limitations for motor vehicle accident cases is a generous five years. Typically, plaintiffs in injury claims only file lawsuits if they can't reach a settlement agreement through negotiations with the appropriate insurance company. In most cases, the best time to file a truck accident claim is shortly after the accident but when enough time has passed that the victim has a good understanding of the amount of damages they're facing for property damages, medical bills, and time out of work. Five years allows ample time for investigation, gathering evidence, negotiating with the insurance company, and filing a lawsuit if necessary to secure compensation for your damages.
Why Do I Need a St. Louis Truck Accident Attorney?
Due to the size and weight of large commercial trucks, most collisions with small vehicles result in serious injuries or fatalities. These trucks are insured by commercial policies and require a different legal approach than you would use on a typical auto accident.
What Do I Do After A Truck Accident in St. Louis?
If you were involved in a collision with a semi-truck, dump truck, large van or some other kind of big truck, obtaining the following information will help you protect your right to fair compensation:
A copy of the police report and the police report number
The Department of Transportation (DOT) license number for the truck
Any names or identification on the cab or trailer
Truck driver information, including license and insurance information
A diagram of the scene, including the location and length of any skid marks
Photographs of the scene (if possible)
The names and contact information of any witnesses
Important Evidence in Truck Accident Cases
Insurance claims and lawsuits involving commercial trucks are generally much more complex than those involving passenger vehicles only.   There are various forms of evidence too, that are critically important in these cases.  This includes driver logs, maintenance logs, vehicle black box data, shipping manifests, and other evidence kept by the trucking companies and the driver.  Additionally, because these cases can include many large companies and the extent of the damages can be significant, it is incredibly important that the attorney you work with has experience handling these types of cases.  At Miller & Hine, we understand how to build strong cases for clients injured by commercial vehicles.  We know what evidence is important and where to look for it.  We understand how to properly evaluate the nature of and extent of your injuries and how much financial compensation you will need moving forward.
Examples of FMCSA Trucking Regulations
The Federal Motor Carrier Safety Administration (FMCSA) is the federal government agency responsible for regulating and providing safety oversight of commercial motor vehicles.  The FMCSA regulates many areas related to commercial trucks, including:
Driving Limits
11-Hour Driving Limit
May drive a maximum of 11 hours after 10 consecutive hours off duty.  May not drive beyond the 14th consecutive hour after coming on duty, following 10 consecutive hours off duty. Off-duty time does not extend the 14-hour period.
30-Minute Driving Break
Drivers must take a 30-minute break when they have driven for a period of 8 cumulative hours without at least a 30-minute interruption. The break may be satisfied by any non-driving period of 30 consecutive minutes (i.e., on-duty not driving, off-duty, sleeper berth, or any combination of these taken consecutively).
60/70-Hour Limit
May not drive after 60/70 hours on duty in 7/8 consecutive days. A driver may restart a 7/8 consecutive day period after taking 34 or more consecutive hours off duty.
Maintenance Related
General – § 396.3(a)
Every motor carrier shall systematically inspect, repair, and maintain, or cause to be systematically inspected, repaired, and maintained, all motor vehicles subject to its control.
Parts and accessories must be in safe and proper condition at all times.
Pushout windows, emergency doors, and emergency door marking lights must be inspected at least every 90 days.
Of course, there are hundreds of FMCSA regulations and this is just a sampling of those that are relevant to truck accident cases.  It should, however, illuminate how important it is that your attorney understand the laws and regulations involved in these types of cases.
Finding The Right St. Louis Truck Accident Attorney
When trucking accidents occur, the commercial insurance companies are quick to send representatives to the scene in an attempt to mitigate responsibility. This is when truck injury victims are most vulnerable. If you or someone close to you has been injured, please call a St. Louis truck accident attorney from our firm at (314) 413-2053 for a free case consultation. Our attorneys will work quickly to preserve evidence, gather witness statements and protect your rights. At Miller & Hine, you will be able to get the compensation you deserve.