O'Fallon Personal Injury Lawyer
Request Free Consultation
When a sudden injury occurs, it can send your life spinning off-course. Medical bills pile up at the same time the injury may prevent you from returning to work in your previous capacity or at all. Severe injuries can be life-altering. Even less serious injuries may cause financial disruption as well as significant pain and suffering during recovery.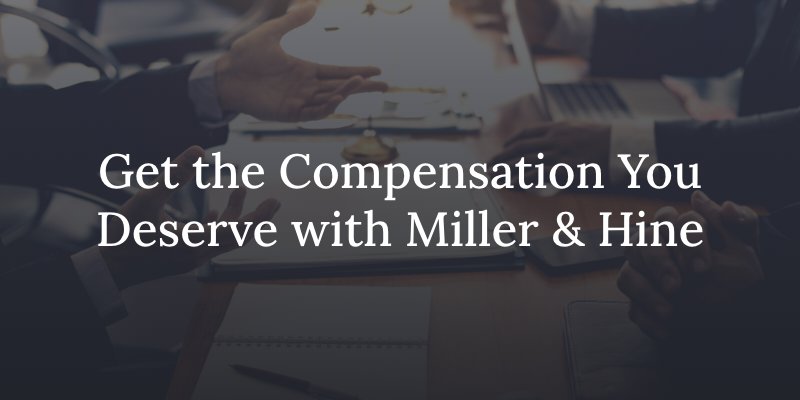 If you've been injured in O'Fallon, and the injury wouldn't have occurred if another party had only taken reasonable care to prevent it, the O'Fallon personal injury attorneys at Miller & Hine know how to help. Call our law office today so we can begin strategizing the best way to obtain the maximum settlement or court award for your damages. In a personal injury claim, "damages" are the consequences an injury victim experiences, such as injury-related expenses and pain and suffering. A successful personal injury claim in Missouri is also a strong voice for justice.
Why Choose Our O'Fallon Personal Injury Lawyer?
Navigating a personal injury claim in O'Fallon or the surrounding region can be challenging—especially when the at-fault party's insurance company attempts to minimize the value of a claim or wrongfully denies their policyholder's liability. At Miller & Hine, we diligently investigate the circumstances of our clients' injuries to craft the most compelling case for their damages. With a Missouri injury attorney from Miller & Hine representing you in your claim, you'll have the following important advantages:
The collaborative skills and knowledge of an entire team with over 50 years of combined experience in St. Louis, Missouri personal injury claims
Individualized attention from your attorney with open communication throughout the legal process
A free case consultation and a reasonable attorney fee deduction only after we secure your compensation so you pay nothing upfront—we believe in affordable legal representation for everyone
An injury attorney with strong investigative skills and experience in court litigation should a lawsuit become necessary to gain full compensation
A compassionate team that treats each injured client's case as their highest priority until it's favorably resolved
Our resolution-based approach works toward an out-of-court settlement from the at-fault party's insurance company, but we're also more than willing to take the matter before a judge if that's what it takes to gain compensation for your damages.
Common Personal Injury Cases in O'Fallon
A sudden traumatic injury can have a devastating impact on the victim and their family. The personal injury lawyers at the O'Fallon law office of Miller & Hine understand these impacts. We have a track record of success in O'Fallon area injury cases including the following and more:
Car, truck, pedestrian, bicycle, and motorcycle accidents
Slip-and-fall injuries
Dog bites
Defective product injuries
Medical malpractice
Burn injuries
Workplace injuries
Missouri civil courts hold negligent parties liable for damages in any of the above injury claims when someone else's failure to take reasonable measures causes injury to someone else. It takes strong investigative skills to hold the liable party accountable for damages. Compensation typically comes from the appropriate insurance policy of the at-fault party. For example, a dog owner's property liability insurance in a dog bite case or a driver's personal injury protection policy in a car accident. Sadly, powerful insurance companies often protect their profits and attempt to deny valid claims or lowball a settlement offer. Having an experienced O'Fallon accident attorney defending your rights and negotiating with the insurance company for your best interests can make all the difference in your O'Fallon injury case.
Common Injuries in Personal Injury Cases in O'Fallon
Some injuries have life-altering ripple effects that cause significant financial hardship. Others are less catastrophic but still disrupt livelihoods and cause pain and suffering. Common injury claims in Missouri include those for the following range of injuries:
Head injuries and traumatic brain injuries (TBI)
Back and neck injuries
Fractures
Spinal cord injuries
Burn injuries
Loss of vision/hearing
Traumatic limb loss
Internal organ damage
Soft tissue injuries
If someone else's reckless actions or negligence resulted in your painful injury, you shouldn't be left to manage the financial burdens alone while you're trying to recover. An O'Fallon injury attorney can diligently navigate the legal aspects of your injury while you focus on your physical recovery.
Proving Liability in O'Fallon Personal Injury Claims
Civil courts in Missouri place the burden of proof of fault on the victim claiming damages in a personal injury case. This requires providing a preponderance of evidence of the at-fault party's liability. Your attorney from Miller & Hine will investigate the circumstances of your injury and document evidence to show the following necessary legal points of liability:
Duty of care: the at-fault party owed a duty of reasonable care to you and others to prevent injury, such as a driver's duty to avoid distraction
Breach of duty: the party at fault breached this duty through negligence, recklessness, or purposeful wrongdoing
Causation: the negligent breach of duty directly caused injury
Damages: the injured victim suffered significant economic and non-economic damages from the injury
By presenting clear evidence of liability in a well-executed demand package to the appropriate insurance company, your O'Fallon personal injury attorney can begin strong negotiations for an ample settlement for your damages.
What Damages Can I Claim in a Personal Injury Case in O'Fallon?
Personal injury claims in Missouri result in a wide variety of compensation amounts depending on the nature and severity of the injury. A thorough injury attorney will carefully calculate economic damages like your injury-related expenses and use that amount to determine the maximum compensation for non-economic damages like pain and suffering for your claim. Common damages claimed in personal injury cases in O'Fallon and throughout Missouri include the following:
Past and future medical expenses related to the injury
Reimbursement for income loss
Diminished earning capacity for severe, disabling injuries
Pain and suffering
Other appropriate non-economic damages in your case like disfigurement compensation, emotional trauma, PTSD, or loss of enjoyment of life
If a personal injury results in a loved one's death, the case becomes a wrongful death claim with additional claims for damages for surviving family members. Our wrongful death attorneys at Miller & Hine are ready to help in these egregious situations.
Call or Contact Our O'Fallon Injury Lawyers Today
A personal injury claim shouldn't wait. If the case requires a lawsuit, it must be filed within Missouri's statute of limitations in order to go to court. Reach out to our waiting attorneys at the O'Fallon personal injury law firm of Miller & Hine so we can hear about your unique case and begin a personalized strategy to recover your losses.