St. Louis Car Accident Attorney
Request Free Consultation
Auto accidents are stressful. Getting your car repaired, seeking medical attention, and missing work can be overwhelming and cause you to suffer substantial expenses and losses. If you were not at fault for the car accident, you shouldn't have to be responsible for covering the financial burdens.
The person who caused the car crash should. However, seeking just compensation can be challenging and add greater frustrations to this difficult situation. Fortunately, you can have a St. Louis car attorney handle your case and take care of all the legalities, relieving you of some of your stresses and allowing you to focus on your healing.
At Miller & Hine, our St. Louis car accident attorneys are here to assist in navigating the complex process of seeking the financial compensation you deserve. We have 50 years of combined experience and fully understand St. Louis personal injury laws. Our team delivers personalized attention and can develop an individualized legal strategy to pursue financial recovery on your behalf. We'll handle your case with professionalism and sensitivity, informing you of the possible courses of action and keeping you updated on the progress.
To discuss your case with one of our car accident lawyers in St. Louis, contact us at (314) 413-2053. We offer free initial consultations.
St. Louis Car Accident Quick Links
How a St. Louis Car Accident Attorney Can Help
An experienced accident attorney in St. Louis can investigate all aspects of your car accident case to determine liability by:
Examining the accident report
Visiting the scene of the accident
Viewing any available traffic camera footage, dashcam video, or surveillance video that captures the accident
Using accident reconstruction experts
Interviewing eyewitnesses
Once your attorney examines the details and investigates the accident, they can prove liability by demonstrating the following legal points:
That the driver had a duty of reasonable care to prevent injury to others on the road by following traffic laws and avoiding distractions
That they breached this duty of care by acting negligently or recklessly
That the breach of duty directly caused the injury
That the injury victim suffered real damages, including economic and non-economic damages
Once the evidence clearly demonstrates liability, your St. Louis car accident attorney will draft a demand letter to the appropriate insurance company and negotiate to achieve an out-of-court settlement. If the insurance company acts in bad faith and won't offer an ample settlement, an experienced lawyer from Miller & Hine Attorneys at Law will take the matter before a judge through court litigation.
How to Establish Fault in a Missouri Car Accident Case
Although you know that the other driver caused your car accident, you must prove to the at-fault party's insurance company (and possibly a judge or jury) that their customer is responsible. Typically, this burden requires you to demonstrate that the other driver acted (or failed to act) in a way a reasonable person would have under similar circumstances. In other words, you must prove negligence caused the car accident.
To show that another driver was negligent, you must establish that they:
Owed you a duty of care. Motorists are expected to adhere to the laws of the road to prevent causing harm to others.
Breached their duty of care. If a driver does something that violates the rules, they may be considered in breach of their duty. For example, a person texting while driving could be said to have acted below the standard, causing a car accident.
Caused the accident. The driver's negligence must have been the proximate cause of the crash. Returning to the previous example of a person texting while driving, the question would be: "Had the driver not been texting, would the collision have happened?"
Caused damages. To pursue compensation after a car accident, you must have suffered a financial loss, such as medical expenses or lost wages for your personal injury. These are referred to as damages.
The elements listed above provide a simplified version of establishing fault in an auto accident case. The process can be extremely complicated and requires gathering and analyzing quite a bit of evidence.
Our St. Louis car accident attorneys conduct a full investigation of these matters, scouring the details to determine what happened and who was at fault. We work to ensure that the liable party is held responsible.
Common Causes of St. Louis Car Accidents
Sadly, car accidents are a daily occurrence in busy St. Louis. Over 300,000 residents travel to and from work daily in the city. Not only that but St. Louis is centrally located in the intersection of 3 major Missouri interstate highways that introduce travelers into the daily mix. Common causes of St. Louis car accidents include:
Distracted drivers using cell phones, checking GPS, selecting playlists, eating, or engaging in other distractions on the road
Speeding
Disregarding traffic laws, traffic signals, and road signs
Making unsafe lane changes
Driving under the influence of alcohol or other substances
Driver fatigue
Failing to adjust to weather conditions
Tailgating
Failing to yield the right of way
When a driver causes an accident due to negligence or recklessness it leaves them liable for damages. A successful car accident claim can help injured victims to achieve compensation for financial damages and pain and suffering as well as allowing them to gain a sense of justice for their serious injuries.
Car Accident Statistics in St. Louis
Because of the combination of daily commuters and major interstate highways converging in St. Louis, accidents are common on all major roadways in and around the city. Accident databases for St. Louis reported over 15,000 car accidents in 2021, a shocking average of one accident per every 20 residents. Further investigation of traffic statistics showed:
64 fatalities in 2021
The fatality rate in St. Louis car accidents is almost double the national rate
The breakdown of traffic accidents in 2021 showed 7,210 one-vehicle accidents, 7,332 traffic accidents involving pedestrians, motorcycles, bicycles, and trucks, and 6,218 collisions involving 2 or more cars
No matter what kind of car accident you experienced, a St. Louis accident attorney from Miller & Hine Attorneys at Law can represent your interests through the claims process to maximize your chances of achieving full compensation for the damages you've suffered.
Common Injuries in St. Louis Car Accidents
Depending upon the severity of the accident, a motor vehicle collision can result in injuries ranging from mild to catastrophic. Common injuries associated with car accidents include:
Lacerations
Nerve damage
Torn ligaments
Broken bones
Internal injuries
and death
A catastrophic injury can lead to long periods of hospitalization, an inability to earn income, and, potentially, a short or long-term disability. However, even relatively minor injuries can create immense financial and emotional hardship. Nerve damage can make routine tasks extremely difficult and often requires extensive physical therapy to treat. A fracture or broken bone can prevent you from working and earning income.
Additionally, some car accident injuries are often referred to as invisible injuries. An invisible injury is one that is not apparent to the eye. This includes many forms of mild brain injury, nerve issues, and internal injuries. Invisible injuries can be notoriously difficult to prove in car accident cases and often require medical experts to prove. Our accident lawyer can help you get the proper treatment for your injuries.
What Is the Average Settlement for a St. Louis Car Accident Case?
The settlement amount for auto accidents varies. Each case is unique, and various factors affect the compensation victims receive. Thus, how much you might get will depend on the facts.
Variables impacting car accident settlement amounts include, but are not limited to:
Cost of medical bills
Severity of injuries
Amount of lost income
Reduced earnings due to long-term injuries
Future expenses for medical treatment
The at-fault party's insurance limits
Is Missouri a No-Fault State for Car Accidents?
Another factor affecting compensation is whether you were partially responsible for the car accident. Missouri is a pure comparative fault state. That means you can pursue financial recovery for accident-related losses and expenses, but your settlement may be reduced by your percentage of fault.
For instance, if it's determined that you should be awarded $10,000, but you were 15% responsible, your award amount is decreased to $8,500. Because much needs to be considered when seeking compensation, it may be in your best interests to discuss your case with our car accident lawyers in St. Louis.
We have handled numerous personal injury cases and accident claims; we know what a fair settlement looks like. Our team can evaluate your case and the offers made by the insurance company. We can let you know whether the amount is just and are prepared to negotiate with the insurer to protect your best interests.
Time Limits in St. Louis, Missouri Car Accidents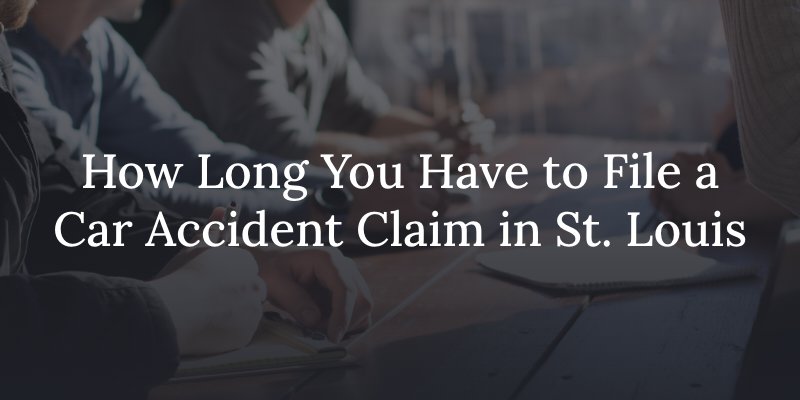 If you have been injured in a motor vehicle accident in Missouri, it is important that you speak with an attorney as soon as possible for many reasons. The first is that the moment the accident is reported, the other party's insurance company will begin building a case against you.  They may reach out to get a recorded statement from you and attempt to use your own words against you. The sooner you have a personal injury attorney on your side, the less likely you will be to have an insurance company take advantage of you.
The second reason is that you need an attorney to begin building a case on your behalf. This includes talking to eyewitnesses, collecting evidence from the scene of the accident, and getting a full understanding of the scope and extent of your injuries. The longer you wait, the less credible witnesses become, the more likely evidence like tire tread marks will be lost, and the greater chance that other evidence like video surveillance footage can be destroyed.
Lastly, but perhaps most importantly, there are strict time limits set by state law that set a statutory window for you to file a car accident lawsuit. This is known as the statute of limitations. In Missouri, accident victims have five years from the date of the car accident (or the discovery of your injuries) to file a lawsuit as outlined in Missouri Revised Statutes § 516.120. If you fail to do so, you may be barred from filing an action for your personal injury.
Will My Car Accident Case Go to Court?
Most auto accident cases are settled outside of the courtroom through negotiations with the other party's insurance company. However, in certain circumstances, these matters may need to be taken to trial. Generally, this happens when the parties can't agree on a fair compensation amount.
If your car accident case needs to be decided by a judge or jury, it is important that you have a law firm representing you that has experience and has been successful at trial. At Miller & Hine, we are ready to represent you in court. Employing a team approach, we combine our knowledge, skills, and talents to build a compelling legal strategy for our clients.  We approach every car accident case as though it will go to trial.  This allows us to build strong cases and, for many clients, results in a more favorable settlement offer before trial becomes necessary.
A St. Louis car accident attorney from our firm will explore the necessary legal options to pursue justice for you.
What to Do After a St. Louis Auto Accident
When pursuing a car accident injury case or lawsuit, you have the burden of proving your case. You must present evidence to support your assertions that the other party was negligent and you are owed compensation.
After a car accident, you can take several steps to protect your health and future interests:
Get medical care for any injured persons. As soon as possible after the car accident, call for emergency medical services or visit a hospital for treatment. Some injuries might not be immediately apparent. For this reason, it's crucial to have a doctor examine you. Be completely honest with your physician and follow their advice. Be sure to go to all medical appointments and that your pain is accurately documented.
Gather all contact information. Before leaving the accident scene, get the other driver's name, phone number, address, and insurance information. It's also important to get these details for any witnesses.
Contact emergency services. Call the local law enforcement agency and file an auto collision report. By filing the report, you can document the facts immediately after the accident to avoid error and help determine the at-fault party.
Do not discuss the accident with others. Giving statements to insurance companies or the other driver could damage your case. You should talk about the situation only with the police, your doctor, and your lawyer.
Consult with a car accident attorney. Reach out to an experienced St. Louis car accident lawyer to help with your case as soon as possible. They can take care of the details for you, facilitating an efficient process.
Areas Served
We serve all of St Louis County, including:
Central West End, Soulard, Lafayette Square, Downtown, The Hill, Benton Park, Old North, Tower Grove South, Shaw, St. Louis Hills, Skinker DeBaliviere, The Ville, Compton Heights, Forest Park Southeast, Carondelet, Lindenwood Park, Southwest Garden, Tower Grove East, Grand Center, Jeff-Vander-Lou, Hi-Pointe, Franz Park, St. Louis Place, Downtown West, Bevo Mill, Gravois Park, Benton Park West, Botanical Heights, DeBaliviere Place, Clayton-Tamm, Princeton Heights, McKinley Heights, The Gate District, Greater Ville, Holly Hills, Northampton, Wydown Skinker, Ellendale, Clifton Heights, The Southampton, Marine Villa, Walnut Park East, Walnut Park West, Wells-Goodfellow, Kings Oak, Carr Square, North Riverfront, LaSalle Park, Fox Park
Put 50 Years of Combined Experience on Your Side Today
People often think that hiring a St. Louis car accident attorney is expensive. At Miller & Hine, we work on a contingency basis, which means you do not owe us legal fees unless we win your case. Our St. Louis car accident lawyers will work diligently to pursue the compensation you deserve.
Visit our Testimonials page to see what our clients have to say about working with our firm!
If you or a loved one has been injured in a car accident, call our skilled St. Louis car accident attorneys at (314) 413-2053 or submit an online contact form for a free consultation.