Florissant Personal Injury Lawyer
Request Free Consultation
Sudden unexpected injuries are frightening and painful. Whether you're hurt in a car accident, injured by a defective product, or suffered a slip and fall accident on a wet floor while grocery shopping, when you suffer a serious injury due to someone else's negligence, it's especially traumatic knowing the injury was preventable if only the at-fault party had taken reasonable care.
If you've sustained a serious injury, you've probably endured painful and expensive medical procedures and now you have bills piling up at the same time you've lost weeks of paychecks or you're still unable to return to work to support yourself and your family. Thankfully, Missouri's personal injury law allows injury victims to make claims against the insurance party of the party at fault for their injury. If you've been injured and someone else's actions caused the injury, a Florissant personal injury lawyer is ready to be in your corner to ensure you recover your damages and achieve a sense of justice. At the Florissant law firm of Miller & Hine, we have deep compassion for injury victims suffering the ripple effects of an injury on all aspects of their lives. We're ready to help make things right so you can move forward.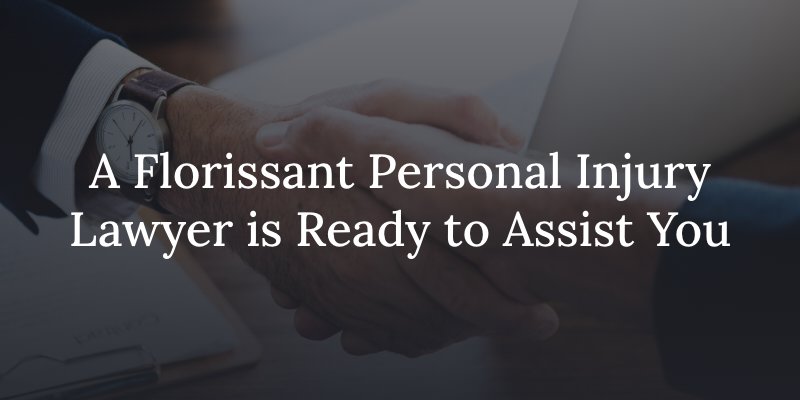 What Is a Personal Injury?
Unlike criminal law, tort law refers to the court's way of allowing injury victims to seek redress for wrongs done to them. When the wrong is a bodily injury that negatively impacts the victim's life, they have the right to seek compensation for the damages through a personal injury claim. Compensation in a personal injury claim typically comes through the at-fault party's insurance policy. Depending on how and where the injury occurred, damages could be paid from the at-fault party's car insurance, commercial property insurance, private property insurance, manufacturer's liability insurance, or medical malpractice insurance.
Personal injury law is complex and the injury victim bears the burden of proving that negligence occurred and their injury was the direct result. A Florissant personal injury lawyer from Miller & Hine can deftly navigate your claim and maximize your chances of recovering damages through an insurance settlement or a lawsuit.
Common Personal Injury Claims in Florissant, Missouri
Accidents and injuries happen every day, but when it's a serious injury that makes it difficult to support yourself and your family, it can feel overwhelming. A personal injury claim helps resolve the financial burdens associated with the injury. Common personal injury claims in Florrisant and the surrounding region include:
Car accident injuries
Truck accident injuries
Motorcycle injuries
Bicycle injuries
Pedestrian injuries
Workplace injuries
Dog bites
Slip and fall injuries
Medical malpractice injuries
Defective product injuries
Many of these injuries directly result from someone else's actions or negligent inaction. If someone causes injury to another, a personal injury claim holds them accountable.
Proving Liability in a Florissant Personal Injury Case in Missouri
In a fault-based insurance state like Missouri, injury victims must prove liability on the part of the individual or business at fault for the injury. This burden of proof requires a thorough investigation of the circumstances of the injury to demonstrate liability by showing the following:
The party at fault owed a duty of care to take reasonable actions to prevent injury to others, like a dog owner's responsibility to keep their dog from biting or a driver's duty to follow traffic laws
They breached this duty through an act of negligence, recklessness, or wrongdoing
The breach of duty directly caused the injury
The injury victim suffered significant damages from the injury
Once your attorney from the Florissant law firm of Miller & Hine documents evidence and calculates damages, they can craft a compelling case for your compensation and send a powerful demand letter to the appropriate insurance company to begin negotiating a settlement. Our Florissant car accident lawyers can help you establish liability in your claim.
What is the Statute of Limitations for Personal Injury Cases in Missouri?
The vast majority of personal injury claims settle out of court through direct negotiations between the insurance company and a personal injury attorney representing an injured client. Only in the relatively rare case that the insurance company denies a claim or only offers an undervalued amount, does the case progress into a lawsuit. Injury victims may file lawsuits to collect damages as long as they file within the state's statute of limitations for personal injury lawsuits. Missouri has a generous 5-year time limit on personal injury lawsuits, beginning on the day of the injury.
The more time that passes between an injury and a lawsuit, the more difficult it is to present evidence and strong testimony. It's best to speak to a personal injury attorney in Florissant as soon as you have an idea of the extent of the economic damages you're facing as a result of the injury so your attorney from Miller & Hine can begin a strategy to maximize your compensation.
What Compensation Can I Gain After a Personal Injury?
If you've been seriously injured, it's likely that you're feeling the impacts across all aspects of your daily life. A successful Florissant personal injury claim can recover compensation for damages such as:
Medical expenses
Future medical expenses for ongoing care
Lost wages
Future income loss
Lowered earning capacity if the injury caused a disability
Pain and suffering
Other non-economic damages that might apply, like disfigurement, loss of limb, PTSD, or diminished quality of life
Compensation for non-economic damages like pain and suffering can't fix the injury or erase the pain, but financial compensation is the only way the courts can right this type of wrong. The compensation can help open doors to medical treatment to maximize your physical recovery while it also expedites a victim's financial recovery.
Why Choose Us for Your Personal Injury Lawyers in Florissant?
Working with an experienced attorney on your side makes a tremendous difference in the personal injury claim process. At Miller & Hine, we offer 5 decades of combined experience navigating St. Louis personal injury claims with a track record of success for our injured clients. If you've been injured through someone else's negligence or wrongful actions, your recovery is too important to go it alone against powerful insurance companies that prioritize profits over payouts.
A lawyer from Miller & Hine in Florissant will investigate your injury, gather evidence, and carefully calculate your damages to maximize your compensation. We will present the most compelling case on your behalf and argue aggressively for your best interests throughout the process. Reach out to our Florissant personal injury law firm today for a free consultation so we can begin a strong strategy for your unique injury case.