St. Louis Construction Accident Lawyer
Request Free Consultation
Construction sites can be dangerous places to work. Workers often work at great heights, using sharp or electric tools, operating heavy machinery, and handling hazardous materials. Because of this, construction companies have specific safety standards and rules they must follow under the law. However, sometimes, these rules are not adequately followed, and as a result, serious injuries and fatalities occur.
If you or someone you care about was injured on a construction site in St. Louis, you might be entitled to substantial compensation. But, recovering the compensation you deserve is not always as easy as it should be, and that is where an experienced St. Louis construction accident attorney can help.
Call Miller & Hine today at (314) 413-2053 or fill out the contact form to schedule a free consultation with an experienced St. Louis construction accident lawyer. We promise that we will do everything in our power to get you the compensation you deserve.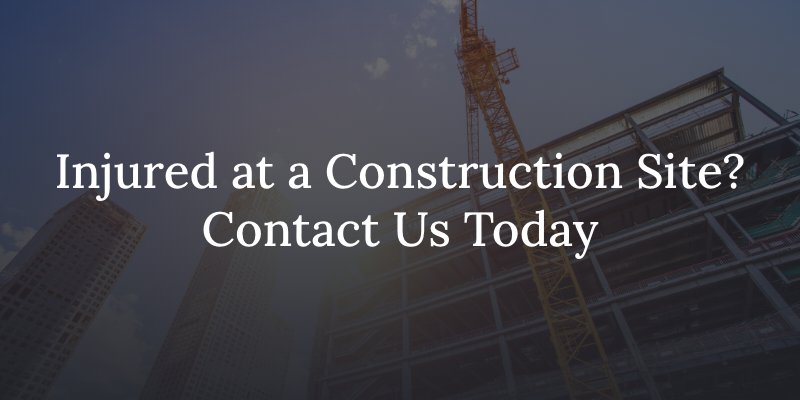 How a St. Louis Construction Accident Attorney Can Help You
Once an attorney has evaluated your case, they'll begin working on a strategy to pursue your goals with the greatest likelihood of success. An experienced construction accident attorney will do the following:
Investigate the circumstances of your accident to determine fault
Determine whether your accident is a worker's compensation claim or a personal injury claim against a third party or manufacturer
Stand up to insurance companies offering unfair settlements
Provide individualized attention to your case
Diligently ensure that all paperwork is accurate and filed in a timely manner
Keep you updated on every aspect of your case with open communication
When appropriate, negotiate for your settlement from a position of power through evidence documenting your injury
Argue your case aggressively in courtroom litigation if required.
An experienced St. Louis construction accident attorney knows how to maximize your chances for full compensation for your economic and non-economic damages.
Common Insurance Company Tactics That Aren't in Your Best Interests
Private insurance companies exist to make profits. The insurance adjuster's job is to find ways to minimize the value of a claim or reasons to deny it completely. Common tactics these companies use include:
Trying to assign you a greater percentage of fault than you deserve in order to minimize the payout on your claim under Missouri's pure comparative negligence insurance law
Calling you very soon after your accident before you know the extent of your damages and offering a low settlement in exchange for you signing away your right to file a lawsuit
Obtaining medical authorization to review your injury report and then combing through your medical history to find a pre-existing condition they can claim as the true cause of your symptoms
Recording phone calls and taking your remarks out of context to use against you
Claiming that your doctor's recommended treatment for your injury isn't necessary
Denying that the coverage was in place at the time of the injury
Don't fall for any of these common methods to lowball or deny your claim. It's best to direct all communications with the insurance company to your lawyer.
What to Do After a St. Louis Construction Site Accident
The immediate aftermath of an accident is frightening and often chaotic. You could have injuries so severe that you can do little but wait in place for help to arrive. If you're able to access your phone, snapping pictures of the accident scene and any involved equipment can be helpful later. Always take the following steps to protect your physical and financial future:
Report your accident to a supervisor and request a copy of the accident report
Gather contact information of eyewitnesses
Seek medical attention immediately and tell the doctor about every injury and all of your symptoms
Ask for a detailed copy of the doctor's report, including your treatment recommendations and prognosis
Follow all of your doctor's recommendations and attend every treatment, procedure, and follow-up appointment
Gather all the relevant documents and contact a construction accident attorney
All of the above steps may help you recover financially after an accident by ensuring you have the evidence you need for a St. Louis personal injury lawsuit or a worker's compensation claim.
Startling Construction Accident Statistics
According to CDC data, incidents of accidents on construction sites continue to take place in significant numbers despite safety regulations. Falls remain the leading cause of work-related deaths on construction sites, making up about 36.4% of fatal injuries, or about 1 out of 3 deaths. Struck-by accidents(such as being struck by falling lumber or by a swinging crane) make up about 15.4% of deaths. 7.2% of deaths were from electrocutions, while crush injuries from caught-between accidents (such as limbs caught in machinery or a body caught between moving equipment and a stationary object) made up about 5.4% of fatalities.
Data from 20210 includes the following statistics;
There were 1008 total construction deaths in the US in 2021
There were 169,200 total construction site injuries in 2021
21% of work-related deaths occur on construction sites in the U.S.
The highest construction-related injury rate occurs in framing contractors
Full-time construction workers lost approximately 24.2 million working hours due to work-related injuries or illnesses in 2021
The total cost of production loss on construction sites in 2021 directly due to work-related injuries was $7.87 billion
Only 70% of construction firms have designated personnel for overseeing project safety, while 68% conduct ongoing safety analyses during projects.
Can I File a Lawsuit Against a Construction Company in Missouri?
In cases where workers' compensation may not provide benefits sufficient for your injury, it's possible to file a lawsuit against a construction company in cases of clear negligence. Whether the injury occurred from a fall or other injury while on the job, you can file a lawsuit if negligence played a role in the injury, such as a company owner or site manager's failure to:
Properly maintain equipment
Place appropriate barricades, safety netting, or other protective measures
Place sufficient signage
Secure tools, equipment, machinery, or scaffolding
Proving negligence on the part of the construction company includes demonstrating the following:
That the construction company owner and/or project manager owed a duty of care to employees to take reasonable measures to prevent injuries
That they breached this duty of care by acting negligently
That the negligent breach of duty directly caused the injury
That the injury victim suffered significant economic and non-economic damages
After an investigation into the circumstances of the accident, an attorney can determine if liability for an injury lies with the construction company or a third party.
Common Causes of Construction Accidents in St. Louis, MO
At a construction site, there are many ways for a worker, visitor, or passerby to be injured. Some of the most common causes of construction accidents include the following:
Faulty scaffolding and lifts
Faulty safety equipment
Defective tools and machinery
Objects falling from above
Electric shock
Falling from heights
Exposure to hazardous or toxic substances and materials
Repetitive motion
Poor maintenance
Common Injuries Sustained in St. Louis Construction Accidents
Construction accident injuries are frequently devastating and life-altering. The most common injuries sustained in construction accidents include:
Electrocutions
Crush injuries
Toxic exposure
Broken bones
Torn ligaments and tendons
Vision or hearing loss
Repetitive stress injuries
Compensation for St. Louis Construction Accident Injuries
If you have been injured in a construction accident in Missouri, you may be entitled to recover compensation by filing one of the following legal claims:
A Workers' Compensation Claim
Workers' compensation provides benefits to workers who are injured on the job or become ill due to conditions at work. Almost every employer in the state must carry workers' compensation insurance or be self-insured.
To be eligible for workers' compensation benefits after a construction accident, you must:
Work for an employer with workers' compensation insurance
Be injured
Have suffered the construction injury at work
Workers' compensation insurance in Missouri provides three main benefits:
Medical treatment
Wage replacement benefits (Temporary Disability Benefits)
Compensation for any permanent disability resulting from a work-related accident (Permanent Disability Benefits)
These benefits are provided to injured workers regardless of fault but in exchange for being unable to sue your employer. Moreover, workers' compensation does not compensate an injured worker for non-economic losses, such as pain and suffering, loss of enjoyment of life, etc.
A Third-party Liability Claim
Under certain circumstances, a worker injured in a construction accident may be able to file a civil claim in addition to their workers' compensation claim. This is referred to as a third-party liability claim.
Except in very specific circumstances, you can only file a third-party liability claim against a defendant who is someone other than your employer or a co-worker, such as a subcontractor or a vendor. However, with a third-party liability claim, you can recover compensation for damages above and beyond those available through workers' compensation insurance, including:
Past and future medical expenses
Out-of-pocket expenses
Lost wages and income
Diminished earning capacity
Pain and suffering
Loss of enjoyment of life
Punitive damages if the court finds that the negligent party's actions were particularly egregious
To succeed in a third-party liability claim after being injured in a construction accident, you must prove that the defendant is liable for your injuries and losses, based on negligence or strict liability. A product liability claim filed against the manufacturer of a defective tool or piece of machinery is a typical example of a third-party liability claim arising from a construction accident.
Moreover, if the actions of a third party caused a construction accident that resulted in your loved one's death, you may be entitled to bring a wrongful death action against the wrongdoer to recover damages on behalf of your loved one and their estate.
Deciding Fault in a St. Louis Construction Accident Claim
There are many different parties involved in work on a construction site, from builders, plumbers, and electricians, to designers and contractors. There are typically multiple parties who could be at fault in an accident. Depending on the circumstances of the accident, liable parties could be any of the following:
Construction site owner (This is a case of premises liability)
Construction company
Architect, designer, or engineer
Contractor or subcontractor
Supervisor or foreman
Manufacturers of machinery or equipment

Coworker

Temporary employee
Construction site accidents occur in a variety of ways, including faulty design plans, equipment failure or malfunction, or unsafe work environments. When any party involved in a construction project is negligent and an accident results, that person or entity is liable for the accident and their insurance must pay for the damages.
A good St. Louis construction accident attorney knows how to investigate the circumstances of your case to determine whether you have a claim for worker's compensation or a personal injury lawsuit and then gather the evidence to prove liability.
How Long Do You Have to File a Construction Accident Claim in St, Louis?
If you've been injured on a construction site, you must file a worker's compensation claim within 30 days of your accident. If you're filing a personal injury claim against a third party or a manufacturer, you have up to five years from the accident date to file a claim according to the state's statute of limitations. Missouri's statute of limitations is generous compared to many other states which allow only 2 or 3 years to file an accident claim.
Consult With an Experienced St. Louis Construction Accident Attorney at Miller & Hine
If you or someone you care about was hurt in a construction accident in St. Louis, you need an experienced construction accident attorney to evaluate the circumstances of your construction accident and pursue every available source of compensation for your injuries and losses.
Call Miller & Hine at (314) 413-2053, or contact us via our contact page to arrange a free consultation with an experienced St. Louis construction accident attorney. The law limits the amount of time you have to file a claim, so call us today!