St. Louis Premises Liability Attorney
Request Free Consultation
A premises liability case can arise whenever someone is injured on someone else's property. Landowners, property owners, lessees, and municipalities have a legal duty to their customers and other guests to maintain their property in a reasonably safe condition.
If you or a loved one was injured due to a hazardous condition on someone else's property in St. Louis, you may be able to bring a premises liability claim against the negligent property owner or occupant to recover compensation for your injuries and losses.
Contact Miller & Hine at (314) 413-2053 to arrange a free consultation with an experienced St. Louis premises liability attorney. We can help.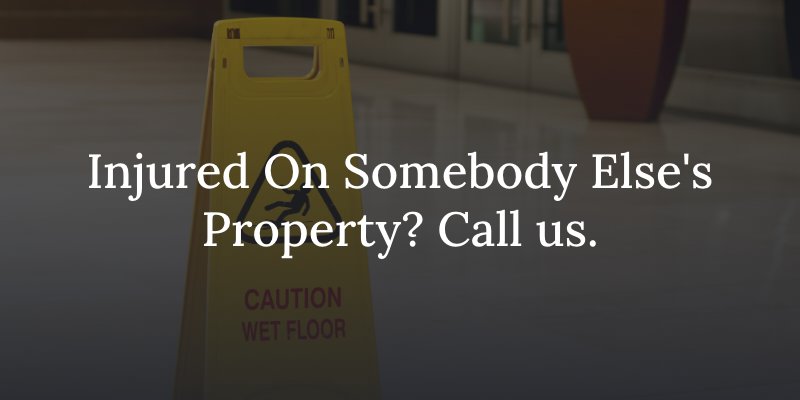 Where Do Premises Liability Incidents Occur?
A premises liability case can arise from an incident on property owned, leased, or occupied by a private party, such as a grocery store, restaurant, or the home of a friend. Likewise, a premises liability claim may arise from an incident on property owned by the government, such as a public park, a sidewalk, a street, or a government building.
A premises liability incident can occur anywhere, indoors or outdoors, including:
Apartment complexes
Hospitals
Shopping centers or malls
Bars and restaurants
Sports stadiums
Swimming pool and hot tubs
Parking lots
What's more, premises liability incidents can be caused by a wide variety of hazardous conditions, such as:
Wet or slippery floors
Torn carpets
Uneven/cracked sidewalk or walkway
Dog attacks
Potholes
Poor lighting
Insufficient security
A skilled St. Louis premises liability lawyer can assist you with collecting the evidence you need to prove where and how the injurious incident occurred. They will use expert witnesses to evaluate the incident and explain to the at-fault party's insurance company, or a jury at trial, how the hazardous condition resulted in the harm you suffered.
Who Can Be Held Liable in a St. Louis Premises Liability Claim?
When someone owns, leases, or manages a property, they have a duty to take reasonable measures to prevent harm from coming to anyone who enters or visits the property legally. If they recognize a potential hazard, they have the responsibility to promptly address the hazard by repairing or correcting it, placing warning signs, prohibiting entry to the area, or otherwise preventing injury to others.
It often takes an investigation to determine the liable party, which isn't always the property owner. Under Missouri law, the defendant in a premises liability case is the party in control or possession of the property at the time the injury occurred. Depending on the circumstances of the case, this could be any of the following:
The property owner
A property lessee (an individual leasing the property)
A property manager or business manager
Renters or tenants
Whoever is responsible for the maintenance of a property is liable for damages when their negligence directly causes an injury. In some instances, the owner of the property may not be responsible if they've signed over control of the property to someone else in a lease or other legal agreement.
Compensation For a Missouri Premises Liability Case
Typically, there is more liability coverage available to cover a premises liability accident than an automobile accident. For example, the state mandatory minimum for automobile insurance coverage is $25,000 per person, while the coverage available under the standard homeowner's policy is $250,000, and the commercial general liability insurance policy is $1 million.
More insurance coverage means the possibility of a much larger settlement for your claim, including compensation for the following damages:
Medical expenses related to your injuries
Lost wages and income if you cannot work while recovering from your injuries
Loss of earning capacity
Pain and suffering
Diminished quality of life
Possible punitive damages
An experienced Missouri premises liability attorney from our law firm can help you evaluate and document all of your losses, and ensure that you recover all the compensation to which you are entitled.
Common Premises Liability Injuries
A premises liability accident can result in any number of injuries. Some of the most common injuries that the Missouri premises liability attorneys at our law firm help clients with include:
Broken bones
Severe lacerations
Neck and back injuries
Concussions
Open head wounds
Strains and sprains
Even a minor injury can require you to work with a skilled attorney to recover the cost of necessary medical treatment, time missed from work, and other out-of-pocket costs.
What to Do If You've Suffered an Injury on Someone Else's Property
When a person is hurt on their own property, they are responsible for paying for medical care. In most cases, the individual's medical insurance covers their healthcare expenses. But when an injury occurs on someone else's property, their liability insurance must cover the related damages. If you've been injured on someone else's property, taking certain steps can help you gain compensation for your economic damages and non-economic damages like pain and suffering. If you are able to use your cell phone—or ask an uninjured person to use it for you—doing the following can protect your physical and financial future:
First, call for help from EMS or make arrangements to go to an emergency room as soon as possible
Then, use your phone's camera to take photos of the hazard that caused your injury
Photograph any visible injuries
If the injury occurred at a business or commercial property, ask for the owner or manager to fill out an accident/incident report
Obtain the contact information of the property manager or owner
Add the contact information of any eyewitnesses
Have a thorough medical evaluation and tell the doctor about all of your symptoms
Ask for a detailed medical report with your doctor's treatment recommendations listed as well as your prognosis for recovery
Follow all of your doctor's treatment recommendations
Keep all of your medical bills and related receipts or invoices
Avoid posting on social media
Gather the information you've collected and call a St. Louis premises liability lawyer to represent your rights throughout the claim process.
While compensation can't erase the injury or the pain, it can help you obtain the best medical care and provide financial relief while you recover.
What Do I Need To Prove in a Missouri Premises Liability Case?
In general, four basic elements need to be proven for a premises liability case to succeed in Missouri:
The defendant (property owner, manager, lessee, or municipality) owed you a duty of care
The defendant breached their duty to you
The defendant's breach of duty caused your injuries
Your injuries led to economic or non-economic damages that you suffered
In addition, an injured person must prove that the property owner, manager, or occupant knew about the hazardous conditions on the property or should have known about it, and had enough time to warn you of the danger or fix it, but failed to do so before you were injured.
Only if you were legally allowed on the property at the time of the injury does it qualify you for a premises liability claim. Property owners and managers do not owe a duty of care to a trespasser or anyone illegally entering a property to commit a crime. In Missouri, anyone approaching the front walk or front door of a property for legitimate purposes is legally allowed on the property even if not specifically invited. The property owner must assume that individuals will approach and take reasonable measures to prevent injury.
Also, children are never considered trespassers on a property. If the owner has reason to anticipate a child might enter their property, they must take measures to prevent harm.
How Long Do You Have to File a St. Louis Premises Liability Claim?
In Missouri personal injury claims, injury victims have a generous five-year window for filing a personal injury lawsuit, including for premises liability. This time limit begins on the date of the injury. The state's statute of limitations on premises liability cases typically allows claimants enough time to file a claim with the appropriate insurance company and negotiate a settlement. Only when insurance companies fail to adhere to good faith practices and deny a claim or offer undervalued settlement amounts does the claim progress to a lawsuit in court. A court will simply dismiss any lawsuit filed after the 5-year statute of limitations expires. Around 95% of premises liability claims settle out of court with the help of a skilled personal injury attorney.
There are two exceptions to the Missouri statute of limitations on premises liability claims:
When the injury occurs to a minor, they have up to five years after their 18th birthday to claim compensation

If the injury isn't discovered until later, the clock begins on the date of discovery. An example would be if a doctor later diagnoses a nagging backache as due to a fractured vertebra from a fall, the statute of limitations begins on the date of the doctor's diagnosis 
If you have a question about the Missouri statute of limitations and how it relates to your case, a St. Louis premises liability attorney can help.
What to Expect When Filing a Premises Liability Claim?
It can be challenging to take on a legal case while you are recovering from an injury. That's why hiring a skilled, diligent attorney to represent your best interests can help you to focus on your recovery. Your attorney will investigate the circumstances of your injury to identify the liable party and collect evidence to prove their liability. They will also review your damages and speak to medical experts to determine the future cost of your medical care and income loss. They also assign an amount of compensation for non-economic damages like pain and suffering, loss of enjoyment of life, disfigurement, or anything else that might apply in your case.
In most premises liability claims, your lawyer will represent you in negotiations with the appropriate insurance company, keeping you informed throughout the investigation and negotiation process. They might require testimony from your family or employer about the impact of the injury on your daily routine, and employment status, or ask you to keep a journal or record of the effects of the injury on your life.
Only if the negotiations fail to secure ample compensation for your damages does the case proceed to a lawsuit, in which case your attorney will present evidence and you'll testify about your injury in the St. Louis court of your jurisdiction. While lawsuits take longer than an out-of-court settlement, a jury award is often larger than a settlement.
Contact Miller & Hine: St. Louis Premises Liability Attorneys
If you have been injured by a hazardous condition on someone else's property, you should not underestimate the value of a St. Louis premises liability attorney in these cases. For your best chance at a successful resolution, we highly encourage you to contact us for a free case evaluation.
We offer a no-cost, no-obligation consultation, and we charge no fee unless we recover compensation on your behalf.